Applications are now available for families who want to enroll their child(ren) in Total Community Action's Head Start program in Orleans Parish through www.enrollnola.org.
Head Start provides a broad range of services in addition to classroom education. Health, nutrition, and family support services are complemented by a vast array of Total Community Action programs, which support families in all areas of their lives. With this holistic approach, Total Community Action positions families and children for success in school and life.
To qualify, children must live in Orleans Parish. Applications are currently being accepted through One App at www.enrollnola.org.
(Please note new phone numbers for Head Start Centers)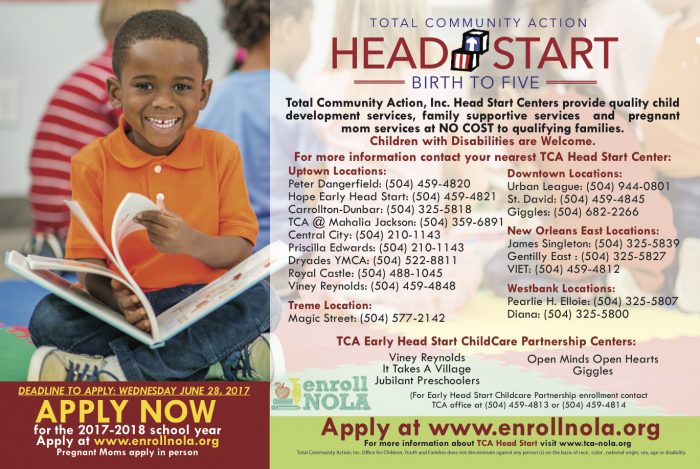 For more information, please visit your nearest Head Start Center or call the TCA Head Start main office at 504-309-3503.
Below is a complete listing of TCA Head Start Centers (Please note new phone numbers for Head Start Centers) :
Serving pregnant women, and infants 6 weeks — children age 4
Serving children 3 years – 4 years
Gentilly East Head Start Center
4347 Reynes St
New Orleans, LA 70126
(504) 325-5827
(504) 302-1584
Carrollton-Dunbar Head Start Center
9301 Colapissa St
New Orleans, LA 70118
(504)352-5818
(504)941-7902
Pearlie Hardin Elloie Head Start Center
3029 Wall Blvd.
New Orleans, LA 70114
(504) 325-5807
(504) 941-7915
Diana Head Start Center
2144 Pace Blvd.
New Orleans, LA 70114
(504) 325-5800
(504) 324-8851
James Singleton Head Start Center
14441 Curran Blvd.
New Orleans, LA 70128
(504) 325-5839
(504) 309-5717
St. David Head Start Center
1230 Caffin Ave.
New Orleans, LA 70117
(504) 459-4845
(504) 267-3158
Magic Street Head Start at Fabourg Lafitte
2101 Lafitte St
New Orleans, LA 70122
(504) 577-2142
(504) 373-6951
Viney Reynolds Head Start Center
3501 Erato St.
New Orleans , LA 70113
(504) 459-4848
(504) 324-9062
TCA Head Start @ Mahalia Jackson
Serving pregnant moms Infants 6wks-children 5 yrs
2405 Jackson Ave.
New Orleans, LA 70113
(504) 359-6891
(504) 525-8338
Dr. Peter W. Dangerfield Head Start Training Center / Hope Early Head Start Center
1402 S. Jefferson Davis Pkwy.
New Orleans, LA 70125
(504) 459-4820
(504)309-2829